Vermont-NEA Scholars' Bowl
2012-2013 finals press release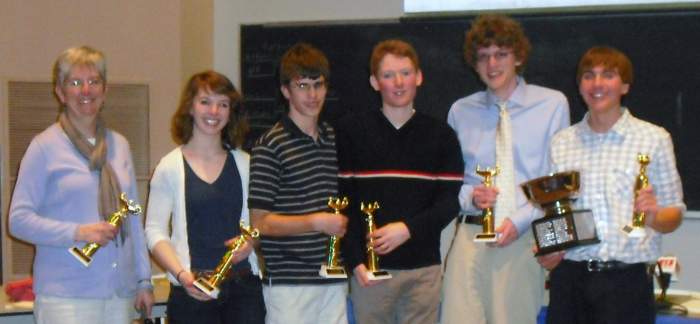 Coach Lea Ann Smith (left to right) and team members Margaret Turvey, Martin Deutsch, Everett O'Malley, Matt Bergeron and Cole Blondin show off their trophies after Essex won the Scholars' Bowl state championship April 6 at the University of Vermont. (Photo by Kevin Commo)
Essex wins Vermont-NEA Scholars' Bowl championship
BURLINGTON -- Essex High School conquered a field of 12 schools to claim the title as the Vermont-NEA Scholars' Bowl crowned the state high school academic champion Saturday, April 6, at the University of Vermont.
Essex needed to win three matches to claim the title in the question-and-answer competition, completing its run with a 385-245 victory over South Burlington in the final. It was Essex's fourth state championship overall and its second in the last four years.
Seniors Everett O'Malley and Margaret Turvey, junior Cole Blondin, and sophomores Matt Bergeron and Martin Deutsch were the participating members of the Essex team that won despite playing without captain Lee Murphy because of a schedule conflict. Lea Ann Smith is the team's coach.
Essex started its day with a hard-fought 370-305 victory over Burlington in the quarterfinals and then built a big lead before holding off two-time defending champion Hanover, 400-350, in a fast-paced semifinal. In the title match, Essex shook off early deficits of 50-15 and 80-40 before pulling away midway through the last of three rounds of competition.
South Burlington reached the championship match for the third year in a row after stopping Mt. Mansfield, 370-265, and Middlebury, 325-245, in the quarterfinals and semifinals. Mt. Mansfield won the Medlar Cup, the tournament's second-tier competition, before falling to SBHS.
The Scholars' Bowl is a school year-long competition that features regional tournaments in the fall and playoffs after the new year. Saturday's 12 participants qualified by winning at least three of their five matches on the first day of the playoffs in February.
The Vermont Chapter of the National Education Association sponsors the tournament, which has been testing the state's brightest high school students since the 1983-84 school year. To find out more about our organization, visit our website at www.scholarsbowl.org.
All of Saturday's state finals scores
Medlar Cup quarterfinals
Burr and Burton 310, BFA-St. Albans 230
St. Johnsbury 445, Fair Haven 90
Rice 345, North Country 195
Medlar Cup semifinals
Mt. Mansfield 315, Burr and Burton 290
St. Johnsbury 375, Rice 245
Medlar Cup final
Mt. Mansfield 325, St. Johnsbury 290
Overall quarterfinals
Essex 370, Burlington 305
Middlebury 375, St. Johnsbury 225
South Burlington 370, Mt. Mansfield 260
Overall semifinals
Essex 400, Hanover 350
South Burlington 325, Middlebury 245
State championship
Essex 385, South Burlington 245
---
Back to Vermont-NEA Scholars Bowl 2012-13 results
Back to Vermont-NEA Scholars' Bowl home page