Vermont-NEA Scholars' Bowl
2012-2013 finals press release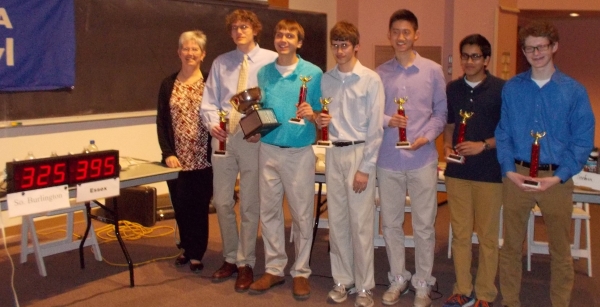 Coach Lea Ann Smith (left to right) and team members Matt Bergeron, Cole Blondin, Martin Deutsch, Jason Yin, Omkar Borse and Peter Feehan show off their trophies after Essex won its second straight Scholars' Bowl state championship March 29 at the University of Vermont. (Photo by Kevin Commo)
Essex High School repeats as Vermont-NEA Scholars' Bowl champion
BURLINGTON -- Essex High School captured its second straight state high school academic championship on Saturday, March 29, besting a field of 13 schools to win the Vermont-NEA Scholars' Bowl at the University of Vermont.
Essex held off South Burlington, 395-325, in the championship match of the question-and-answer competition to win the Scholars' Bowl for the fifth time overall and the third time in the last five years. The victory capped a near perfect local season that saw Essex sweep the major local regular-season competitions -- the Sue Pasco Opening Tournament, the Pre-Holiday Academic Tournament and the Vermont NAQT Championship -- and while posting a combined record of 37-1 against Vermont opponents.
Senior Cole Blondin, juniors Matt Bergeron, Martin Deutsch and Jason Yin, and sophomores Omkar Borse and Peter Feehan were the competing students for Essex, which will conclude its season at the NAQT National Championship Tournament in Chicago on May 31. The team is coached by Lea Ann Smith.
Essex, which entered the day with the top seed, started by outslugging Champlain Valley Union, 440-305, in a high-scoring semifinal. Essex then jumped out to an early 95-point lead before holding off South Burlington in the final. South Burlington drew to within as close as 290-260 midway through the final round before Essex pulled away down the stretch.
South Burlington, the state runner-up for the fourth straight year, advanced to the title game by knocking off Spaulding, 430-190, in the quarterfinals and Burlington, 410-295, in the semifinals. Spaulding won the Medlar Cup, the tournament's second-tier competition, before it's loss to South Burlington.
The Scholars' Bowl is a school year-long competition that features regional tournaments in the fall and playoffs after the new year. Saturday's 13 participants qualified by winning at least three of their five matches on the first day of the playoffs in February.
The Vermont Chapter of the National Education Association sponsors the tournament, which has been testing the state's brightest high school students since the 1983-84 school year. To find out more about our organization, visit our website at www.scholarsbowl.org.
All of Saturday's state finals scores
Medlar Cup quarterfinals
Rice Memorial 355, BFA-St. Albans 165
Mt. Mansfield 375, St. Johnsbury 175
Spaulding 305, Lamoille 255
Medlar Cup semifinals
Spaulding 310, Hanover 260
Rice Memorial 315, Mt. Mansfield 200
Medlar Cup final
Spaulding 300, Rice Memorial 280
Overall quarterfinals
Champlain Valley 375, Middlebury 235
South Burlington 430, Spaulding 190
Burlington 390, Mt. Abrham 205
Overall semifinals
Essex 440, Champlain Valley 305
South Burlington 410, Burlington 295
State championship
Essex 395, South Burlington 325
---
Back to Vermont-NEA Scholars Bowl 2013-14 results
Back to Vermont-NEA Scholars' Bowl home page